#023: You're Worth More Than You Think You Are, Interview with London Based Choreographer Tarek Khwiss [Podcast]
Podcast: Play in new window | Download
In dance or anything you do in life, you always have to progress.  You can stay in the same place, but your position may change. It's always about innovating and uniting. which is what we stand for, which is what Gawz is all about.

Tarek Khwiss – Dancer, Choreographer, Teacher and Entrepreneur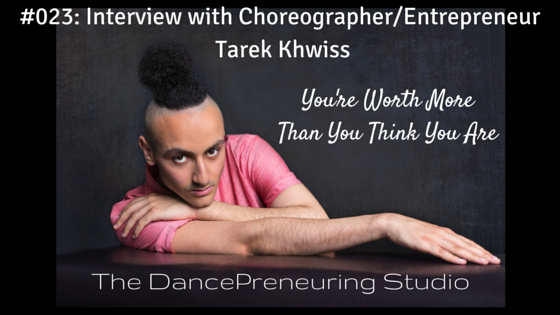 Session Summary
Step to Success: Just as steps are necessary in a dance, there are steps to success in your life and business. In this segment, we discuss a step in the form of an app, a book, or a concept that will help you move forward. Today's step is a podcast about creating value from my friend Kirk Bowman.  You can find his show at http://artofvalue.com/show/
The Dancers' Dialect: Dance terminology as it relates to life and business.  This week's word is epaulment which means cheap tramadol online uk shouldering in French, and used in ballet for definitive positions of the head, arms, legs and torso.
Feature Presentation: London based choreographer and entrepreneur Tarek Khwiss and I have a delightful yet impactful conversation about the importance of valuing yourself and others in your work.  The following tactics gleaned from our interview will help you be a more effective entrepreneur, and more importantly, a person of positive impact:
1. Ask the right questions.
2. Know your worth.
3. Be observant.
4. Have honesty in your communication.
5. Give positive and effective feedback.
6. Improve your current systems.
7. Assess regularly and make plans for progress.
Links to this Session:
Connect with Tarek :
Would you review The DancePreneuring Studio?
I would be extremely appreciative if you would subscribe and leave your feedback on iTunes or Stitcher Radio. Thanks so much!