#049: Getting the OMF out of Comfort Zone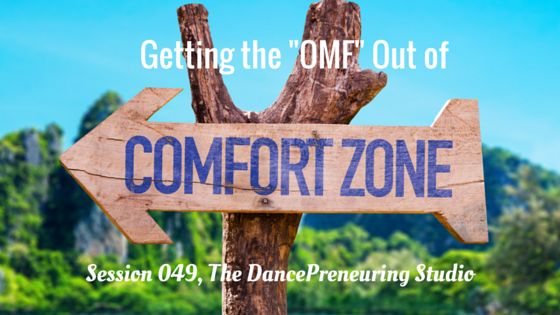 Getting the OMF out comfort zone means to Oust, Overtake and Obliterate My Fears. In this session of The DancePreneuring Studio, I encourage you to do the same.
Session Summary
Step to Success:  We are getting close to the end of December and it's never too late to start working on your goals for 2016. I used to dread and feel so much pressure when setting goals many years ago.  Check out my past session on 7 Ways to Prepare for 2016
Dancer's Dialect: The Dancer's Dialect is the dancer's language. I share dance terminology and concepts from different genres to see the correlations in your life and in your business.  Today's step is two fold, one is called a prance in modern dance, and pas de cheval in ballet, which translates to step of the horse.  These terms came to mind as I pictured my son doing this skipping/prancing step every time he is happy.  What do you do when you're happy?
Freestyle Flow: Why are a lot of dancers so stuck up?  You could say that about other groups of people whether they're attorneys, musicians, etc. Sometimes the industry has a standard to be a certain way. The perception of being stuck up can also be a protective mechanism to hide insecurities. We all have them.
Here are Some Ways to Be The Opposite of Stuck Up:
Offer applicable action steps or simple encouragement to help someone.
Listen intently and maintain proper eye contact.
Stop checking your phone all the time when you're talking with someone.
Be that person that others look forward to seeing again because you have added value.
Feature Presentation: 5 Things To Get the OMF out of comfort zone.
When you think of the word comfort, do you get cozy warm feelings or does it make you kind of squirmy and uncomfortable?
For me it's both. There are some "comfortable" things in life that I appreciate like a warm beverage on a cold day, a lavender epsom salt bath after intense dance classes, and not driving in Southern California traffic, which is rare but I try to time when I am out to less congested times.
OMF in comfort stands for
OUST MY FEARS
OVERTAKE MY FEARS
OBLITERATE MY FEARS
overtake: to catch up with and pass by
oust: drive out or expel from a position or place
obliterate: to destroy completely so that nothing is left
I had to remind myself that my recent dance performance meant that I had to do the above and remember the following:
Ever heard that sometimes you can be too close to a situation to appreciate it?
Even if you think what you are doing isn't a big deal, there are a lot of complacent people in this world that are too fearful to even try to do what you are doing. They are comfortable or "secure" in some way and don't even want to attempt something outside of their comfort zone.
2. You don't know who you will inspire. I want to make reference to Joel Gallarde from Triple8Funk Dance and Entertainment who was featured on
Session 046
  about being accountable and showing up because people are looking at your example.
3. Do what calms you and don't focus on what others are doing around you. While other dancers were getting amped up for our recent show,  I relished the alone time I had and doing my breathing, warm up and strengthening.  Check out this great article from Monika Volkmar on
polyvagal theory
that has to do with being calm and check out her interview on
Session 040
4. Have quotes, images and/or words that you can look at everyday and take the time to read, digest and think about it how it will apply to an undesirable situation. Tarek Khwiss, a London based choreographer who is featured on
Session 023 
 sent me some very encouraging words as I was preparing for my performance. I had it up on my board so that I could see it everyday and the reminder helped me. Here is the image: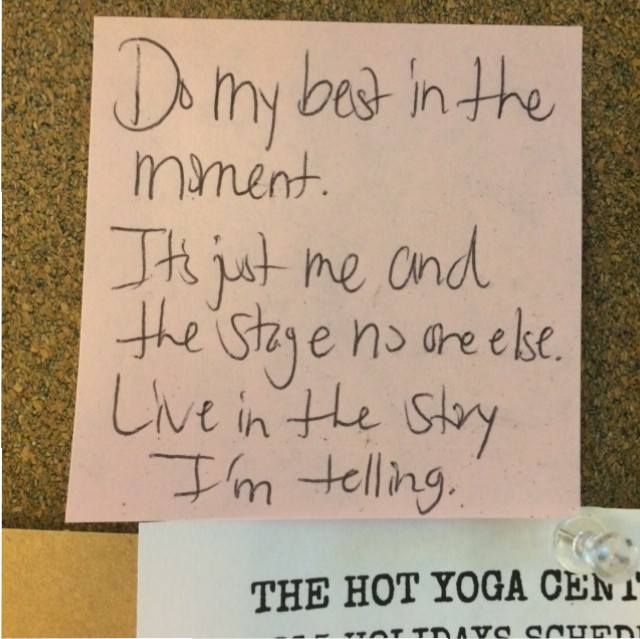 5. Don't tie your result with your self worth or learn to ask the right questions for next time. Reassessing the right way not overcomplicating or overanalyzing. Moving forward and adjusting.
Here is a quote I saw from Darren Hardy, publisher of
Success Magazine
, that he posted from his mentor Jim Rohn:
Don't seek security, seek adventure.  It's better to live 30 years full of adventure than a 100 years safe in the corner.
Links from this Session
Session 046 with Joel Gallarde
 Session 040 with Monika Volkmar
Question: What have you done this past year to get out of your comfort zone?
Would you review The DancePreneuring Studio?
I would be extremely appreciative if you would subscribe and leave your feedback on iTunes or Stitcher Radio. It really helps if you do it through the native Apple Podcast App on your smart device. Thanks so much!