#072: 20 Productive Possibilities in 5 Minutes [Podcast]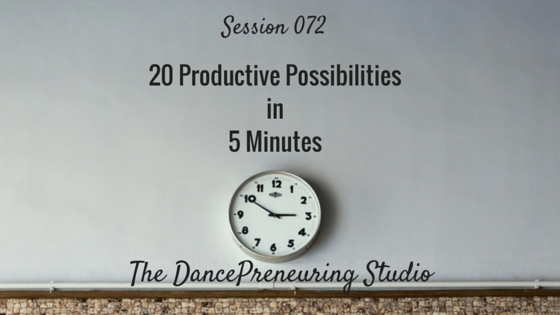 Time flies so make the most of your minutes.  In this session of The DancePreneuring Studio, I share 20 productive possibilities in 5 minutes that will improve your day.
Exercise/Health
1. Planks.  Check out this plank challenge you can do.
2. Short HIIT workout. I use the Seconds Timer on my iPhone to time and guide my workouts.
3. Find some new music for your workouts or if you're working on teaching or choreography.
4. Stretch.
5. Drink water.
 Mental
1. Read affirmations.
2. Review your goals.
3. Update your to do list and assess if what you're spending your time on is important.
4. Close your eyes and meditate.
5. Play some ambient music and spend time in stillness.
Business
1. Unsubscribe from material that you're no longer reading or no longer helping you. Check out
unroll.me
to help you manage your emails.
3. Read for 5 minutes whether from a book or catching up on articles on
Pocket
or
Instapaper
.
4. Return a phone call.
5. Review your calendar.
Inspiration
1. Start or update your vision board, whether online or offline.
2. Listen to or watch a TED talk.
3. Set a timer and list as many exciting places you want to visit and things you want to do.
5. Improv movement or song.
Question: What productive thing can you do in 5 minutes?
Would you review The DancePreneuring Studio?
I would be extremely appreciative if you would subscribe and leave your feedback on iTunes or Stitcher Radio. It really helps if you do it through the native Apple Podcast App on your smart device. Thanks so much!