#102: Hope, Happiness and A-Ha Moments [Podcast]
Podcast: Play in new window | Download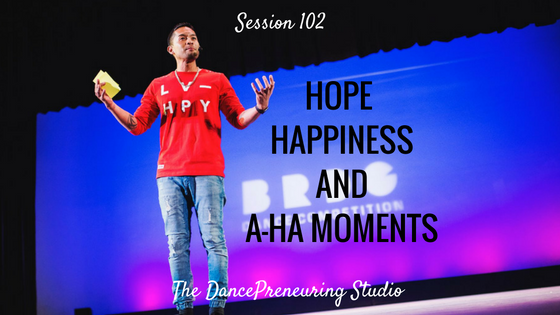 I always look for challenges. I'm always looking to grow.
-Danny Batimana, CEO and Founder of Happiness Is Now, Inc. and Team Millennia-
Image courtesy of Danny Batimana, Brdg and Steezy.
I hope that you find hope, happiness and a-ha moments in this upcoming year as I share this wonderful conversation with Danny Batimana as we discuss my experience attending his hip hop dance competition, how he prepares for his talks, his viewpoints on mentorship within the dance community, and order tramadol discount much more, in this session of The DancePreneuring Studio.
Links to this Session:
The Outliers Book by Malcolm Gladwell
Question: What a-ha moment can you share that would impact others?
Would you review The DancePreneuring Studio?
I would be extremely appreciative if you would subscribe and leave your feedback on iTunes or Stitcher Radio. It really helps if you do it through the native Apple Podcast App on your smart device. Thanks so much!