#146: Clips from a Choreography Workshop [Podcast]
Podcast: Play in new window | Download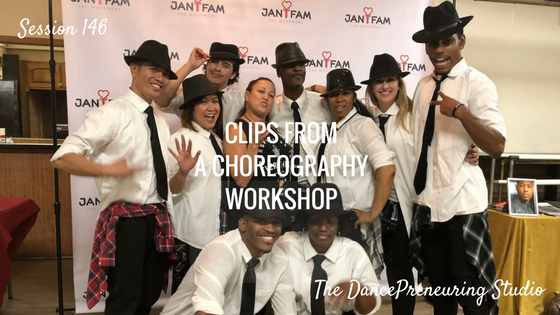 Live quick audio clips recorded at Tina Landon's (choreographer to Janet Jackson and more) choreography workshop at Hollywood Dance Center in Los Angeles a few weeks ago on versatility as a dancer, creating community, and more on this latest session of The DancePreneuring Studio.
Links from this session:
Join my private Facebook Group, The DancePreneuring Collective
Interview with Junior, Creator of JanFam The Movement
Youth Protection Advocates in Dance
Would you review The DancePreneuring Studio?
I would be extremely appreciative if you would subscribe and leave your feedback on Apple Podcasts or Stitcher Radio. It really helps if you do it through the native Apple Podcast App on your smart device. Thanks so much!