#153: What I Learned from My First Dance Audition in Over 20 Years [Podcast]
Podcast: Play in new window | Download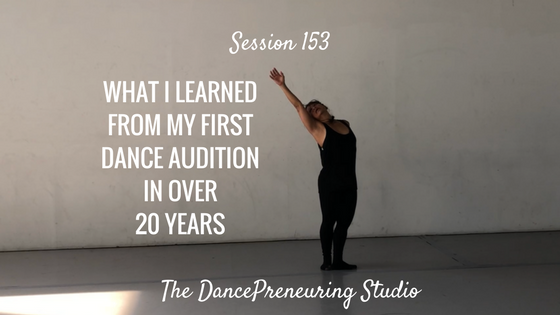 Going to a dance audition was one thing I loathed about the dance process. That's why I had to do it again.  It is all about getting out of my comfort zone and no longer having the regrets from 20+ years of giving up on myself.
Session Summary:
Step to Success: A step to your success is anything that moves your life and your business forward.  Whether it's an app, a book or an idea, you can apply something today that can help you succeed.  Today's step to success is using a pattern interrupt on your phone by scrambling the apps on your phone so that you can switch it up a bit.
Dancer's Dialect: The Dancer's Dialect is the dancer's language.  I share dance terminology and concepts across different genres so you can see the correlations in your life and in your business.  Today's concept is based on this video, which reminded me that simple can still be spectacular in dance, life and business.

Freestyle Flow: Extremes in cleanliness and messiness often make me want to organize my own stuff.
Feature Presentation:  I've been back at dance for about 4 years after a 20+ year hiatus, and in these past 4 years, I've gone to 3 dance auditions. In this session, I share my first dance audition and the lessons that I was reminded of as follows:

1. Do what you can with what you have.
2. Mental attitude is everything–before, during and after.
3. Learn and be around people that are more skilled at what you're working on improving.
4. Appreciate the experience regardless of the outcome.
5. You are valuable.
Links from this session:
Join my private Facebook Group, The DancePreneuring Collective
Would you review The DancePreneuring Studio?
I would be extremely appreciative if you would subscribe and leave your feedback on Apple Podcasts or Stitcher Radio. It really helps if you do it through the native Apple Podcast App on your smart device. Thanks so much!