#087: How To Have Longevity in Your Dance Career [Podcast]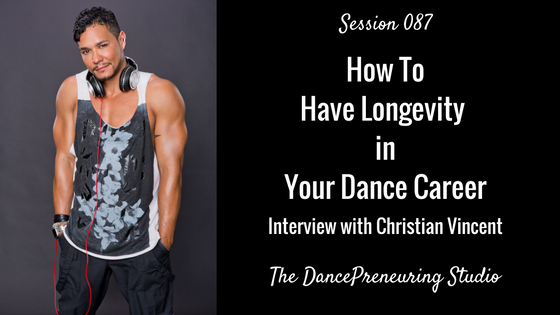 What has allowed me to stay in this career has been my education, and continuing to educate myself, and realizing I can never know too much.

-Christian Vincent, on the longevity and success of his entertainment career-
Session Summary: 
Whether you're a dancer, teacher, or a choreographer, we have your bases covered in this very informative interview with the awesome Christian Vincent, as we discuss what inspires his choreography, why he's cipro online cheap maintained longevity in his entertainment career, and much more.
Links from this Session:
USC Glorya Kaufman School of Dance
Would you review The DancePreneuring Studio?
I would be extremely appreciative if you would subscribe and leave your feedback on iTunes or Stitcher Radio. It really helps if you do it through the native Apple Podcast App on your smart device. Thanks so much!