Green Plus Yellow Equals Yum
I love going to farmers markets. And there is no shortage of them in Southern California.
For me it's like going to an interactive museum where I can see, touch and taste.
From the scents of the fresh flowers and homemade candles,  to the beautiful mix of colors of  heirloom tomatoes picked that very morning, my senses are overjoyed.
And yes, I feel a sense of pride supporting my local farming community.
One of my greatest finds was the
purslane weed
, which I immediately added to my green juicing repertoire that also includes kale and swiss chard among other things. Purslane has the highest amount of omegas of any plant. It's also a nice addition to salads.
The produce from the farmers market always tastes better than what I find at the grocery store. And because of that, it's easier to incorporate fruits and vegetables into our meals.


On my most recent trip to the farmer's market, I found some huge collard greens. Leafy, nutritious and versatile, I also use them for juicing but I hadn't
cheap tramadol overnight delivery
bought any recently because there weren't any available.
I suddenly remembered that I had used the collard green leaves as a wrap for a quinoa salad that I had made in the past. It was a nice change from using tortillas or bread.
My son has had collard greens juiced in his smoothies, however, I wanted to see if I could get him to eat them raw.
So in comes the juicy mango. If I could use collard green leaves as a wrap for quinoa, how about trying it as a wrap for fruit?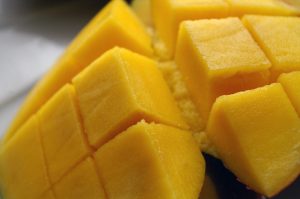 Yay, a new food experiment. I happily put on my creative chef hat and put a slice of mango wrapped inside a collard green leaf.
My son tried it with the mango and asked for another one. I was giddy, Wouldn't you be excited if your child asked for more vegetables?
Farmer's Market finds enable me to be creative in new and delicious ways. In addition, the farmers are generous with their time and expertise and will recommend recipes as well.
Do you frequent your local farmers markets? What is your favorite part about them? I would love to hear your comments.