#181: Inside the Mind of a Unicorn [Podcast]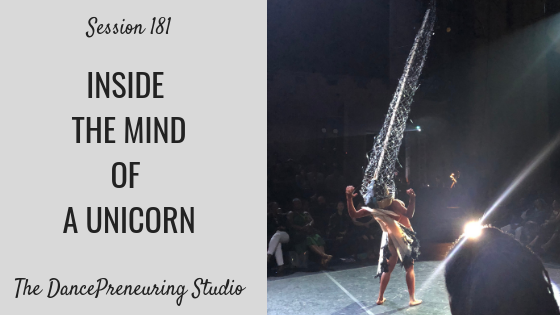 Any show that breaks the monotony works. If the end product is good, nothing can stop it from being successful."
― Kunal Karan Kapoor
Memoirs of a Unicorn broke monotony for sure! The end product to me was great-this wonderful performance by Marjani Forte-Saunders. This is my take inside the mind of a unicorn, a mythical creature that can represent so much.
Session Summary:
Feature Presentation: Marjani Forte-Saunders embodied a unicorn, a princess, an evil warrior and her own father which gave me the following important insights applicable to dance, life and business:
1. Sometimes you don't have to understand all the details to get the full picture.
2. You can be curious and inquisitive without overthinking.
3. Get comfortable with intimacy.
4. A variety of movement and experiences can be incorporated in dance, life and business.
5. Release is required if you want balance.
An image and a video from this show:
Memoirs of a Unicorn (Video)
Links from this session:
Would you review The DancePreneuring Studio?
I would be extremely appreciative if you would subscribe and leave your feedback on Apple Podcasts or Stitcher Radio. It really helps if you do it through the native Apple Podcast App on your smart device. Thanks so much!