The Creativity and Passion of Flamenco with David Gutierrez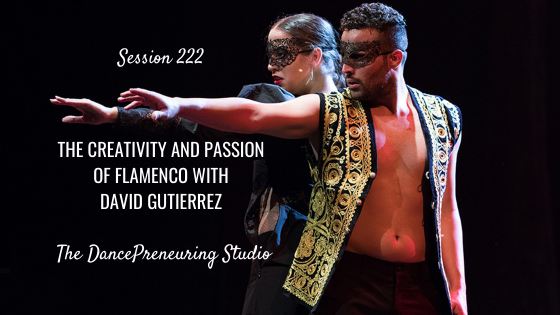 Welcome to The DancePreneuring Studio. My name is Annett Bone and this is the place that inspires dance, life and business. I get the joy and the privilege of sharing my journey back into the dance world after a 20 year hiatus, the lessons I've learned, the transformation I've experienced and the wonderful creatives I've met along the way who share their stories, their ideas, strategies and tactics that will help move your life and your business forward.
My special guest today is world renowned flamenco dance artist and choreographer David Gutierrez of Barcelona Flamenco Ballet. I enjoyed our conversation on flamenco, creativity, the importance of self-care as an artist, and more as he prepares to bring his latest work called "Luxuria" to the United States.
Bienvenido al podcast de dancepreneuring studio. Mi nombre es Annett Bone y este es el lugar que inspira la danza, la vida y los negocios. Tengo la alegría y el privilegio de compartir mi viaje de regreso al mundo de la danza después de una pausa de 20 años, las lecciones que aprendí, la transformación que experimenté y los maravillosos creativos que conocí en el camino que comparten sus historias. , sus ideas, estrategias y tácticas que le ayudarán a sacar adelante su vida y su negocio.
Mi invitado especial de hoy es el coreógrafo y artista de baile flamenco de renombre mundial David Gutiérrez del Ballet Flamenco de Barcelona. Disfruté nuestra conversación sobre el flamenco, la creatividad, la importancia del cuidado personal como artista y más mientras se prepara para traer su último trabajo llamado "Luxuria" a los Estados Unidos.
 A few takeaways from this session:
Stay focused with passion and hard work.
Traveling is an education in itself.
Time alone doing other movement and activity is great for creativity and new ideas.
Algunas conclusiones de esta sesión:
Manténgase enfocado con pasión y trabajo duro.

Viajar es una educación en sí mismo.

El tiempo a solas haciendo otros movimientos y actividades es excelente para la creatividad y las nuevas ideas.
Other episodes of interest:
#107 Fire Your Focus with Flamenco
#145 What Flamenco Taught Me About Business
#188 When Music Drives Movement
Links from this session:
https://www.davidgutierrezflamenco.com/en-gb/listings
Photo above by Belen Codina Felip
Would you review The DancePreneuring Studio?
I would be extremely appreciative if you would subscribe and leave your feedback on Apple Podcasts or Spotify. It really helps if you do it through the native Apple Podcast App on your smart device. Thanks so much!
¿Revisarías The DancePreneuring Studio? Le agradecería mucho que se suscribiera y dejara sus comentarios en Apple Podcasts o Spotify. Realmente ayuda si lo hace a través de la aplicación Apple Podcast nativa en su dispositivo inteligente. ¡Muchas gracias!