#022: The Importance of American Modern Dance in Business, 5 Lessons from the Legendary Jose Limon [Podcast]
Podcast: Play in new window | Download
American modern dance is full of life and business lessons. In this session of The DancePreneuring Studio, we take your business to the next level by sharing 5 key lessons learned from legendary modern dancer and choreographer Jose Limon.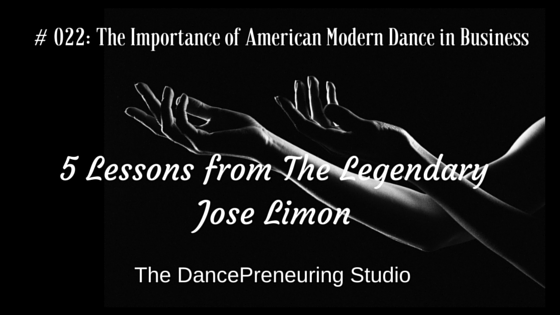 Session Summary
Step to Success: Just as steps are necessary in a dance, there are steps to success in your life and business. In this segment, we discuss a step in the form of an app, a book, or a concept that will help you move forward. Today's step is a tool that automatically backs up your computer and if necessary, will help you recover an unlimited amount of computer files called Backblaze.
The Dancers' Dialect: Dance terminology as it relates to life and business.  This week's word is fall and recovery, a technique that was developed by modern dance icon Doris Humphrey.  Fall and recovery is choreographed in dance, however, in life and in business, it's important that we remember that we can recover.
Feature Presentation: There are 5 lessons we can apply to our life and our business based on Jose Limon:

Choreography was constructed so that each body part has a "voice."  Each part of your marketing has a voice, your business card, cheap generic tramadol  your website, your video, your copy, etc.)
He brought humanity to his work.  More than ever, it's being relatable and bringing that human element to your messages, not being robotic, and  having authenticity.  Remember that authenticity needs to be communicated differently on the various social media platforms. What works on Facebook does not mean the message will translate the same way on LinkedIn, Instagram or Twitter.
He left a repertory of respected works.  Are you thinking about the legacy factor of your business? As an entrepreneur you will stop and start projects but what is it that you want to have lasting legacy power?
He made sure that his choreography had a fluid succession from one movement to the next. Make sure your sales funnel is working seamlessly.  And it's better to have something simple in place, rather than no follow up sequence.
He was an ambassador for American Modern Dance not necessarily for technique purposes, but the human quality of dance. Be a good will ambassador representing your brand and your business, in everything that you do.
Would you review The DancePreneuring Studio?
I would be extremely appreciative if you would subscribe and leave your feedback on iTunes or Stitcher Radio. Thanks so much!