#037: Dance in A Box [Podcast]
Podcast: Play in new window | Download

Take the journey as the journey unfolds.  And take your lessons as you go through that journey because that's going to take you to the place where you need to be, for the things that you need to do at any given moment.

-Tricia Gomez on the entrepreneurial journey
Diagnosis isn't always the prognosis.  In this session of The DancePreneuring Studio, find out how a diagnosis of lupus led my guest Tricia Gomez, to success and a fulfilled soul.
Session Summary
Step to Success: Just as steps are necessary in a dance, there are steps to success in your life and business. In this segment, we discuss a step in the form of an app, a book, or a concept that will help you move forward.  Today's step is an online tool that will help you with ideas for creating titles called Portent's Content Idea Generator.
Dancer's Dialect: George Balanchine created out of the box with his ballets. His style is marked by the following according to Wikipedia

The overall illusion of the Balanchine method is that dancers are utilizing more space in less time, so that speed, height, length and a syncopated musicality are created. He based the method on the view from the audience. Lines were adapted so that they looked impressive from the audience's point of view.[1]Specific characteristics include:

Extreme speed and very deep plié
Emphasis on line, with use of unconventional, asymmetrical, abstract arm and hand placement
Pirouettes en-dehors taken from a lunge in 4th, rather than the conventional plié in 4th
Distinctive arabesque line with the hip open to the audience and the side arm pressed back
Athletic dance quality
Arabesque positions are usually open and facing the audience

Click here for a quick informative video on the NYCB site on George Balanchine
Freestyle Flow: A spontaneous craft project with my son reminded me of the importance of varying my experiences so that I don't revert back to similar patterns in the creation process. This also took me back to an experience from my Catholic school days when I was living on Guam. Here is an image of my creations: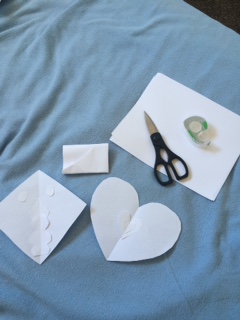 Feature Presentation: Tricia Gomez, dancer, choreographer, educator and successful entrepreneur shares the life changing circumstances that led her on the creative journey of her global product, Dance In A Box,  and some great truth bombs about what it takes to be an entrepreneur.
Links From This Session
Portent's Content Idea Generator
Connect with Tricia:
Would you review The DancePreneuring Studio?
I would be extremely appreciative if you would subscribe and leave your feedback on iTunes or Stitcher Radio. Thanks so much!