#040: How a Dysfunctional Relationship with Dance Led to Freedom and Success [Podcast]
Podcast: Play in new window | Download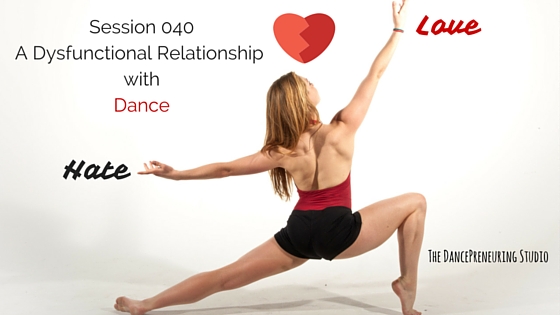 Monika Volkmar  took her frustration of fitting in, to the freedom of standing out, by taking dance to a level beyond performing in this session of The DancePreneuring Studio.
Session Summary
Step to Success: Just as steps are necessary in a dance, there are steps to success in your life and business. In this segment, we discuss a step in the form of an app, a book, or a concept that will help you move forward.  I use screen capture via my MacBook Pro with the Command + Shift + 4 keys and then drag out the area that I need to capture, as well as a tool called Snagit by Techsmith. It's nice to be able to demonstrate visually for those who need to see things as opposed to reading text.
Dancer's Dialect: The dancer's dialect is the dancer's language. I share dance terminology across different genres that relate to your life and to your business. Today's word is very applicable to dance, even if it's not a "dance word" per se, and that is cross training. I thought this word would be appropriate to share since my featured guest talks about the importance of cross training in order to become a better dancer. I am certainly finding that to be the case as I have added different conditioning exercises to my dance buying cipro training and I am noticing a huge difference. How do you cross train in your business? There are three  of many things you can do:

1. Study different industries to see what you can implement in yours.
2. Schedule rest times, which are very important in physical cross training, and just as important in your business.
3. Figure out something in your business you can change, test and see what happens. For example, changing a button color on your website where people subscribe.

Freestyle Flow: It's best not to pack on the warpaint (makeup) when you are going to dance class or the gym.  Check out this article from The Huffington Post that says it all – Why You Definitely Shouldn't Wear Makeup to the Gym
Feature Presentation: I love that my guest, Monika Volkmar, emphasizes the aspect of dance being human first, and then dance second. We talk about injury prevention and the importance of self-love as she takes us through her journey of her love/hate relationship with dance to a successful business teaching others to overcome and prevent dance injuries.
Links From This Session
Connect with Monika:
Would you review The DancePreneuring Studio?
I would be extremely appreciative if you would subscribe and leave your feedback on iTunes or Stitcher Radio. Thanks so much!