#048: The Dynamic Duo of Tango and Business [Podcast]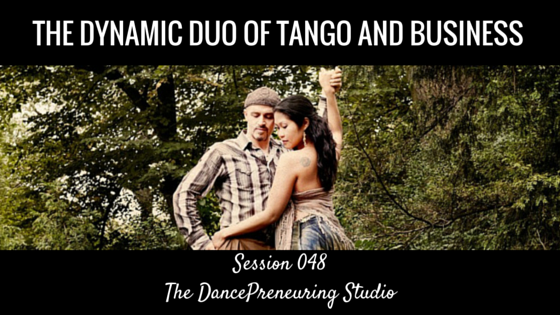 It takes two to tango, and when it comes to tango and business, Homer and Cristina Ladas execute these beautifully in a successful partnership.
Session Summary
Step to Success: Just as steps are necessary in a dance, there are steps to success in your life and business. In this segment, we discuss a step in the form of an app, a book, or a concept that will help you move forward. Today's step is a tool called Coffitivity that emulates sounds from cafe environments that stimulate creativity and productivity.
Dancer's Dialect: The Dancer's Dialect is the dancer's language.  I share terminology and concepts from different genres so you can see the correlations in your life and in your business.   Today's word is tango.

Dec 11th was National Tango Day in Argentina and I've linked a quick video clip in the following article:

The close embrace and hold that is required in tango–I equate with being open and vulnerable, which I have to admit, is difficult for me most of the time.

Freestyle Flow: I'm calling this the Gratitude Groove–5 things that I am thankful for today:

1. My Vitamix Blender that I make

cheap cipro

smoothies with every morning. 99% of the time my morning meal after my workout consists of water, greens, celery, chia seeds, raw cacao powder, some type of nut butter, coconut oil, and berries.

2. The clever comments from my son. His idea of a fancy meal would be Lunchables in the Oval Office. LOL!

3. Extra hot beverages on a cold day.

4. Having entrepreneurial friends regardless of where they are at in their businesses.

5. The opportunity to dance in a showcase after not performing on a stage in over 20 years.

Feature Presentation: I have a delightful conversation with the lovely Homer and Cristina Ladas of The Organic Tango School as we discuss the beautiful dance form that is tango and what makes their successful partnership tick.
Links from this Session:
The Organic Tango School on Facebook
Would you review The DancePreneuring Studio?
I would be extremely appreciative if you would subscribe and leave your feedback on iTunes or Stitcher Radio. It really helps if you do it through the native Apple Podcast App on your smart device. Thanks so much!