#050: The Best of 2015 [Podcast]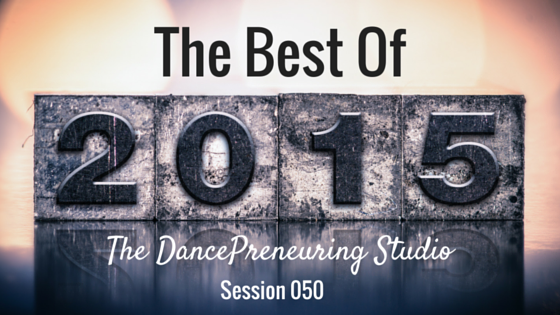 Reflection propels progression.  In this session of The DancePreneuring Studio, I share the best of what I've experienced in 2015 to encourage you to make 2016 your best year yet.
Session Summary
Step to Success:   A step to your success is anything that moves your life and your business forward.  Whether it's an app, a book or an idea, you can apply something today that can help you succeed.  Even though I am not a graphic designer, I love seeing the different tools and templates that are available to create things online. Today's step to success is a site called Creative Market.com and they offer stock photos, graphics, templates, fonts and if you sign up for their email list, you get some free resources every week.
Dancer's Dialect: The Dancer's Dialect is the dancer's language. I share dance terminology and concepts from different genres to see the correlations in your life and in your business.  Today's word is isolation.

Isolation means pretty much the same things across all styles of dance.   You isolate one part of your body, which moves, while the rest of your body remains completely still.  This term got me thinking of focusing and isolating one task at a time when you're working on a project so that you stay creative and productive, which means that multi-tasking is not so ideal.  Check out this

article

from Fast Company on what multitasking does to your brain.

Freestyle Flow:  I talk about making mistakes.   As I was going through past sessions, I discovered that I talked about tango twice on two different sessions of the Dancer's Dialect segment.  This won't be the last time I make a mistake and I need to be okay with that.  I used to get so worked up over mistakes that I had made.  I remember my first attempt to get my driver's license and I failed. My auntie asked how I did and I burst into tears like it was the end of the world. I laugh order tramadol 50mg about that now of course : )
Feature Presentation: I recently met with my mastermind group and we shared the following. It's so important to surround yourself with like minded people that challenge you and are moving forward with their projects. It's like having a success vacuum and you just can't help but get sucked up into this whirlwind of goodness.  I hope that in sharing some of the things that we talked about, that you can reflect on what you've been through to prepare for even a more impactful year.

5 Things I'm Grateful For in 2015:

-Continuing my dance training

-I got to finally start taking Hot Yoga and I love it!

-I'm the strongest I have ever been physically, and I am continuing that process.

-I've achieved 5 of the 9 of goals that I set. I will be extending the ones I didn't reach into 2016.

-Meeting and getting to know people that I would have never met if I didn't start dancing again

Biggest Victory of 2015:  Performing for the first time in 22 years when I wasn't planning on ever performing again.

Biggest Lesson of 2015: There are feelings that I haven't dealt with in 22 years that I have to work through and that I am continuing to work through.

Funny: One of my favorite funny movies is "Keeping The Faith" with Ben Stiller, Edward Norton, and Jenna Elfman.

I love the scenes of New York, the karaoke, and finding humor in the Catholic traditions that I grew up in.

Intention and Vision for 2016: Continue to push the boundaries of my comfort zone
Question: What was your biggest victory of 2015?
Links from this Session
Would you review The DancePreneuring Studio?
I would be extremely appreciative if you would subscribe and leave your feedback on iTunes or Stitcher Radio. It really helps if you do it through the native Apple Podcast App on your smart device. Thanks so much!