#092: One Question to Ask Yourself [Podcast]
Podcast: Play in new window | Download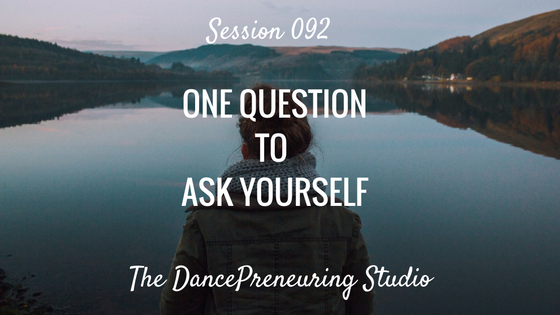 Session Summary:
Step to Success: A step to your success is anything that moves your life and your business forward.  Whether it's an app, a book or an idea, you can apply something today that will help you succeed.  Today's step is a resource called Jewelbeat that offers royalty free background music and sound effects.
Dancer's Dialect: The Dancer's Dialect is the dancer's language. I share dance concepts and terminology across different genres so you can see the correlations in your life and in your business. I've been taking a bunch of hip hop and choreography classes lately and reminded of the importance of groove, in dance, life and business. Check this out:
Freestyle Flow: It's great to complete things…except for someone else's sentences : )
Feature Presentation: This is my most vulnerable session yet. In sharing a few of my first experiences, such as my first dance class, speaking publicly at a podcast conference, and performing for the first time in 20 years, there is one important question to ask so that future experiences propel you forward.
Links from this Session:
Would you review The DancePreneuring Studio?
I would be extremely appreciative if you would subscribe and leave your feedback on iTunes or Stitcher Radio. It really helps if you do it through the native Apple Podcast App on your smart device. Thanks so much!