#097: 3 Ways to Embrace Fear [Podcast]
Podcast: Play in new window | Download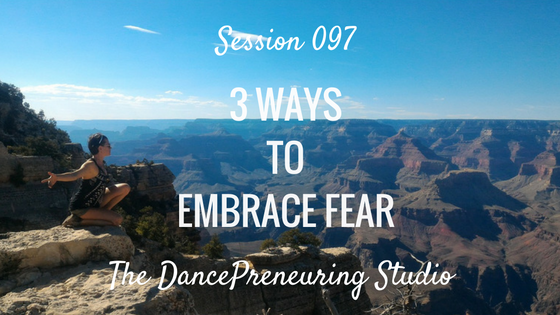 You gain strength, courage, and confidence by every experience in which you really stop to look fear in the face. You must do the thing which you think you cannot do.
Eleanor Roosevelt
Session Summary:
Step to Success: A step to your success is anything that moves your life and your business forward.  Whether it's an app, a book or an idea, you can apply something today that will help you succeed.  Today's step is the process of going over old notes that you've taken from business conferences, courses etc.
Dancer's Dialect: The Dancer's Dialect is the dancer's language. I share dance concepts and terminology across different genres so you can see the correlations in your life and in your buy generic cipro business.  Today's word is a la seconde turns, also referred to as float turns or floats.  Check out this video:
Freestyle Flow: Sometimes you need to be instead of do.
Feature Presentation: The word fear can be overwhelming to most as we all experience varying degrees of it.  I share three simple acronyms that will help you embrace fear.
Links from this Session:
Sarah Arnold of The Accidental Artist Interview
Monika Volkmar of Dance Stronger Interview
Would you review The DancePreneuring Studio?
I would be extremely appreciative if you would subscribe and leave your feedback on iTunes or Stitcher Radio. It really helps if you do it through the native Apple Podcast App on your smart device. Thanks so much!