#101: Lessons from the Legacy of Debbie Reynolds [Podcast]
Podcast: Play in new window | Download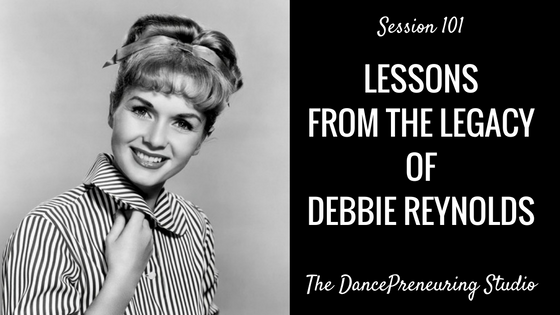 I gave it all that I had, and it's gratifying that people received it so well.
Although this episode is short and sweet, the legacy of Debbie Reynolds is long lasting.  She contributed much to the dance world by creating a facility that has been used by top names in the dance and entertainment industry.
The dance studio is a magical place.  It is a place of creativity. It is a place of synergy. It is a place of blood, sweat, tears and pushing boundaries. It is also place of frustration and heartache. I've experienced all of these and I take all of it in, because I was away from the place and not doing the thing that gave me so much joy. Debbie Reynolds who sadly passed away this week created a community for dancers, a haven where all of this is experienced and will
buy discount tramadol
continue being experienced. Looking at what she did reminded me of the following lessons from her legacy:
Created a place for dancers to create.
The studio has longevity as it's been going strong since 1979.
The studio attracts the top names in the dance and entertainment field.
Community is present within and outside the dance studio.
The studio fosters appreciation for the art of dance.
Link:
Question: What am I doing to create a legacy? Not only financially, but more importantly my impact and serving others?
Would you review The DancePreneuring Studio?
I would be extremely appreciative if you would subscribe and leave your feedback on iTunes or Stitcher Radio. It really helps if you do it through the native Apple Podcast App on your smart device. Thanks so much!