#105: 5 Ways to Listen to What You See [Podcast]
Podcast: Play in new window | Download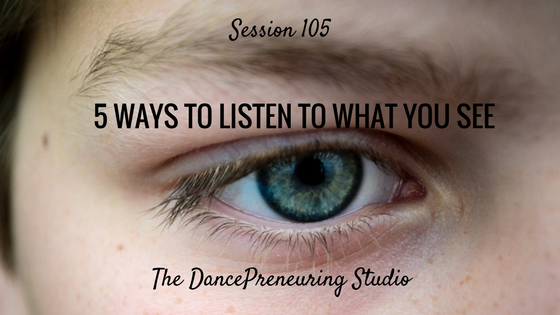 Listen with multiple senses
Session Summary:
Step to Success: A step to your success is anything that moves your life and your business forward.  Whether it's an app, a book or an idea, you can apply something today that can help you succeed.  Today's step to success offers sweet savings in the form of a Chrome browser extension called Honey.
Dancer's Dialect: The Dancer's Dialect is the dancer's language.  I share dance terminology and concepts across different genres so you can see correlations in your life and in your business. Today's word is expressionist dance from Germany. I thought it appropriate to share since my feature presentation focuses on a duet of German dancers.
Freestyle Flow: It always cracks me up when people are on the phone in a public restroom. My quick judgement taught me a lesson on acceptance and finding common ground.
Feature Presentation: The first of four performances I was privileged to experience at The Odyssey cipro 1g Theater provided much introspection on various topics.  These are the lessons I learned from watching "Eifo Efi" choreographed and performed by Ioannis Mandafounis and Fabrice Mazliah.

Lessons:

Listen with multiple senses.
Try not to talk over a person during a conversation. It's not always avoidable but something to work on.
Use words purposefully.
Pay attention to and assess the dialogue going on within yourself.  No judgement, but awareness.
Silence and stillness are not always a bad thing. Take breaths when necessary.
Question: How can you listen to what you see?
Links from this session:
Session #104 with Cloud and Tamara
Session #100 with David Bagley
Would you review The DancePreneuring Studio?
I would be extremely appreciative if you would subscribe and leave your feedback on iTunes or Stitcher Radio. It really helps if you do it through the native Apple Podcast App on your smart device. Thanks so much!