#106: Lessons from The Last One [Podcast]
Podcast: Play in new window | Download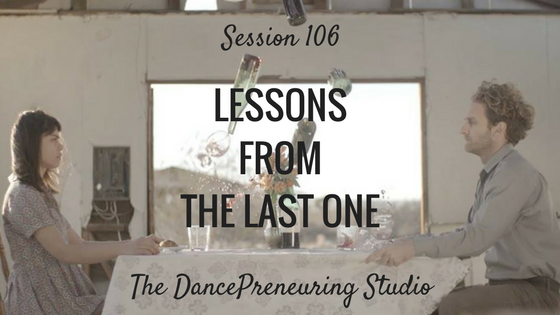 Put yourself in a situation where it's so extreme, that you have to figure out how to get through it…

Anthony Nikolchev
I always like to find what is unpredictable in everything that we do.

Gema Galiana
Session Summary:
Feature Presentation: This is the second of the four performances I got to see recently at The Odyssey Theatre in Los Angeles.  I felt many emotions and this moving performance brought up questions that I didn't know how to answer.  I love when art does that.  I feel blessed to have witnessed the artistic experience that Anthony Nikolchev and Gema Galiana took me through in their production of "The Last One." What an enjoyable conversation I had with them on subjects such as their improvisation process, their thoughts on the commercial and concert dance world, and much more. The lessons I was reminded of from "The Last One" were pay attention to silence and stillness, expect some element of unpredictability, and you can always rebuild if you've been broken down.
Links from this session:
Would you review The DancePreneuring Studio?
I would be extremely appreciative if you would subscribe and leave your feedback on iTunes or Stitcher Radio. It really helps if you do it through the native Apple Podcast App on your smart device. Thanks so much!