#107: Fire Your Focus with Flamenco [Podcast]
Podcast: Play in new window | Download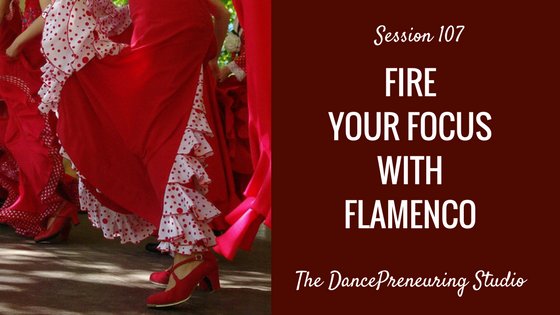 Find those words of encouragement, tell yourself those words of encouragement, and share those words of encouragement

-How to Apply Jaleo in Dance, Life and Business-
Session Summary:
Step to Success: A step to your success is anything that moves your life and your business forward.  Whether it's an app, a book or an idea, you can apply something today that can help you succeed.  Today's step to success is a book called It's Not How Good You Are, It's How Good You Want to Be by Paul Arden
Dancer's Dialect: The Dancer' Dialect is the dancer's language.  I share dance terminology and concepts across different genres so you can see correlations in your life and in your business.  Today's words are flamenco and jaleo.
Freestyle Flow: There is a huge difference between being tense and having tension. Feeling tense during a meeting I was at was night and day from the intentional tension that is required in my body buy 100mg tramadol no prescription doing dance or yoga.
Feature Presentation: Fire and passion are two of my favorite words. These words also describe the performance of Ole Flamenco that I recently experienced at The Odyssey Theatre in Los Angeles.  The jaleo that is part of the flamenco performance can easily be applied to dance, life and business.  How? Use those same words of encouragement toward yourself, then toward others.
Question: What word encourages you?
Links from this session:
It's Not How Good You Are, It's How Good You Want to Be by Paul Arden
Session 100 with David Bagley (on being strong and being wrong)
Would you review The DancePreneuring Studio?
I would be extremely appreciative if you would subscribe and leave your feedback on iTunes or Stitcher Radio. It really helps if you do it through the native Apple Podcast App on your smart device. Thanks so much!