#129: 7 Traits of Great Dance Studios [Podcast]
Podcast: Play in new window | Download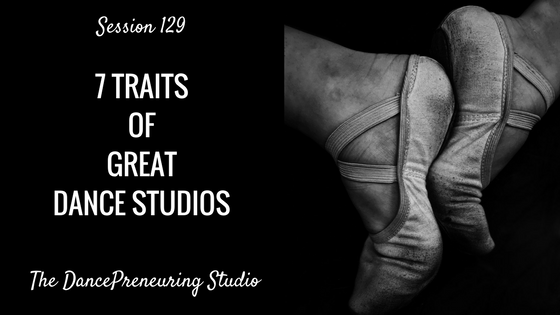 Great dance studios are purposeful in everything that they do. It's not only about the dance instruction, but the entire student experience.
Photo by Adam Littman Davis on Unsplash
Session Summary:
Step to Success: A step to your success is anything that moves your life and your business forward.  Whether it's an app, a book or an idea, you can apply something today that can help you succeed.  Today's step to success is asking yourself how you feel after doing self-care. Do you feel like you did something to nurture your soul, or did you do something just to cross it off your to-do list?
Dancer's Dialect: The Dancer's Dialect is the dancer's language.  I share dance terminology and concepts across different genres so you can see the correlations in your life and in your business. Today's word is the Gaga Method.  I highly recommend you watch the documentary on this.
Freestyle Flow: I appreciate a good dance warm-up.
Feature Presentation: Great dance studios possess the following traits:

Great dance studios make parking as accessible as possible. If you can't order cipro no rx control this, at least give people updated information and options.
Great dance studios train their frontline customer service people so students have a great experience from the moment they walk into the studio.
Great dance studios train their teachers to be punctual and professional.
Great dance studios provide clear descriptions of their classes.
Great dance studios pay attention to the needs of their students.
Great dance studios utilize a paid platform for their web presence.
Great dance studios follow up consistently with their students.
Links from this session:
Join my private Facebook Group, The DancePreneuring Collective
Session #126 Creativity and The Camera
Session #018 on Best Practices for Running a Successful Dance Studio
Session #034 How Shaved Ice Saved My Life
Session #065 The Power of Positive Mentorship
Would you review The DancePreneuring Studio?
I would be extremely appreciative if you would subscribe and leave your feedback on Apple Podcasts or Stitcher Radio. It really helps if you do it through the native Apple Podcast App on your smart device. Thanks so much!