#133: Conversations with The Dancing Dad [Podcast]
Podcast: Play in new window | Download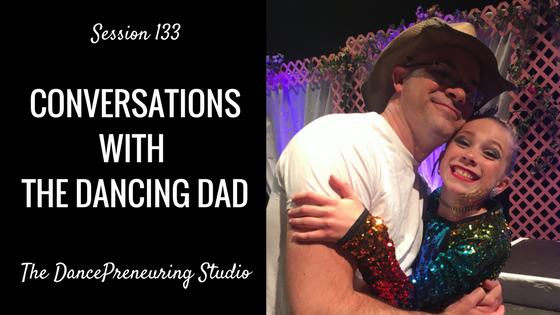 Life is too short to not try new things.
-Nick Goblirsch on getting into dance-
Session Summary: 
Feature Presentation: Switching things up a bit and sharing my conversation with dancer, dance dad, podcaster and dear friend Nick Goblirsch.  We talk about how his family became a "dance family," the community that dance has created, learning choreography with his daughter Abby, and more on this fun session.
Links from this session:
Join my private Facebook Group, The DancePreneuring Collective
The Dependent Independent Podcast
Would you review The DancePreneuring Studio?
I would be extremely appreciative if you would subscribe and leave your feedback on Apple Podcasts or Stitcher Radio. It really helps if you do it through the native Apple Podcast App on your smart device. Thanks so much!