#150: You Asked, I Answer-Listener Questions on Dance, Life and Business [Podcast]
Podcast: Play in new window | Download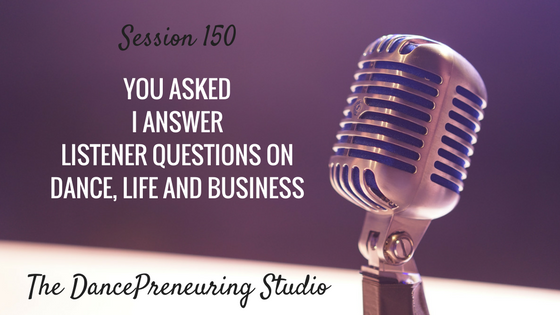 I celebrate another mile marker for my 150th podcast episode by taking listener questions on dance, life and business. This was both thought provoking and fun.
Here are the listener questions and my answers:
From Joey Cooper
Why is dancing the answer?
-It isn't always the answer, but it is the answer for me. Why? Because it was a part of me that I gave up for 20+ years.  Resurrecting that part of me that I thought wasn't important, was a critical choice I made in the last 4 years because it's been the basis of everything that I get to experience today. Not only what it has taught me but what it has reminded me of things I had forgotten or need constant nudging on.
What is it about dancing that makes it a vehicle for exploration?
-It's the possibility of employing all of the senses to explore, play and create. It's allowing yourself the challenge of being vulnerable yet also testing your limits on control. It's being able to use dance in different artistic and intellectual mediums.
Do you feel dancing is a good teacher regarding life lessons?
-I definitely feel that dancing is a good teacher regarding life lessons. That is part of the reason I started this podcast.
What has been the most pivotal dance performance you've seen?
-There are several, but the most recent one called, The Last One, by my two guests Anthony Nikolchev and Gema Galiana, I had on session #106.  I got to work with him a bit at a movement workshop a few months ago. Pivotal for me because it reminded me about trust and abandon in performance. It stirred more questions after I watched it and made me evaluate how much more I want to learn and dig deeper throughout my dance journey.
Is there a common thread all of your guests share that you hadn't realized aside from dancing?
-It's a common thread that I was reminded of, and that is the love for dance regardless of outside circumstances. It's never been about the notoriety, the money, the security, or fame, but the pure passion for the art.
From Grace Young-Grabham
Knowing what you know now, how would you have approached training differently when you were in your 20's?
-So much I can say about this. 1. I wouldn't have given it up completely. Like an all or nothing thing. 2. I would've spent more time developing my mental mindset 3. I would've been more strategic about the what, who and why? What classes I was taking, who I was taking from, and why?
What advice would you give yourself (and others) with the experience you've gained?
-Winning starts with beginning. If you want to get back to something you love doing or start something you want to gain proficiency at, start somewhere. It doesn't have to be a monumental move, you can start with small steps and adjust as you go along. And don't expect perfection and a linear journey. Life is linear but your journey is not, and that's okay. Don't let others or your perception of others deter you from what you want to do.
From Nick Goblirsch
When you create something, have you ever felt when all is finished, that your are sincerely disappointed on where you ended up, and if so, why?
-When I did a performance at a high school assembly, I was disappointed and angry because I wasn't satisfied with what I did.
Where you felt you wanted to end up after the creative journey did not go according to plan?
-This is my 20+ year hiatus from dance journey. I quit before I really gave myself a chance.
From Lisa Castro
What are your favorites? And why?…
Movie of all time
-One of them is Keeping the Faith because it's funny, I love the scenes of New York and I relate to the references to Catholicism.
Song
-No place I'd rather be Jess Glynn and Latch by Sam Smith because they played a lot when I got back to the dance studio
Food
-Asian Food, Chamorro Food and Raw Food because of my cultural background
Historical figure
-Jesus Christ because of what He did despite opposition
Person that you admire
-Tamara Levinson because she is unapologetically who she is
Color
Forest green, earth tones, because it represents life, vibrancy, health
Blogger
-Marisa Murgatroyd from Live Your Message because she's direct
YouTuber
-I don't watch a lot of YT videos but I do like Athlean XX for Women for HIIT workouts.
 Ice cream
-Earl Grey, looking for a dairy free creamy version
Vacation
-Hasn't happened yet. Needs to incorporate dance, yoga, and experiences
Way to relax
-Massage and body treatments
Star Wars character
-I like the obvious ones but I like the ones that are in the cantina having fun. Makes me laugh.
Bible verse,
-Jeremiah 29:11 and Matthew 6:26
Book
-Tinker, Dabble, Doodle Try-Unlock the power of the unfocused mind by Srini Pillay
I like productivity and self development in all areas and love the dance and music examples used
Author
-Brendon Burchard because I love his content
Disney character
-Not a fan of Disney, but I like Pocahantas and Mulan because they represent bravery, tenacity and compassion
From Donna Arrogante
What is your best advice about how to prioritize or make time for dance when life is happening all around you (raising kids, family, building a business, etc)
-Ask yourself why you want to prioritize it? How much time can you allot? What is is you want to accomplish out of it? Don't be discouraged if you have to take small steps. One class a week for example.
How do you stay on track with training?
-I reassess and adjust. I remember how far I have come and it motivates me to continue to look for new ways and thought processes to approach things.
What do all your guests have in common when it comes to achieving success or overcoming challenges through dance?
-They're not afraid to do things even if they don't have all the answers. They don't wait to be perfect.
What is the most unexpected surprise that you've ever experienced on your show?
-On my show, not anything yet, but a serendipity of doing the podcast is doing voiceover work which I do now for a top rated business podcast.
What are you top 1-3 lessons that you've learned from your guests that has changed your life forever?
-It's not always about the content, it's about your approach. David Bagley
-Look at failures as experiments. Gina Schanel
-The importance of your unique journey, preserving legacy and how you make others feel. Arnel Calvario
Links from this session:
Join my private Facebook Group, The DancePreneuring Collective
Anthony Nikolchev and Gema Galiana
Would you review The DancePreneuring Studio?
I would be extremely appreciative if you would subscribe and leave your feedback on Apple Podcasts or Stitcher Radio. It really helps if you do it through the native Apple Podcast App on your smart device. Thanks so much!