#155: My 5 Key Takeaways from Social Media Marketing World 2018 [Podcast]
Podcast: Play in new window | Download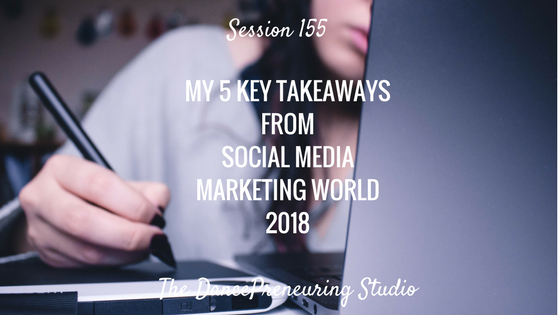 If you don't attend live events, I highly recommend that you do so. It's great to get out of your normal routine. This session gives you my 5 key takeaways from my first time at Social Media Marketing World in San Diego, California as follows:
Connection, calm and presence over content. These words rang clearly for me to focus on because the content (strategies, tactics, etc) change and evolve but relationships will always be key.
Be aware of your energy levels and try to build in margin time.
Don't give your card or info if someone isn't asking for it.  Don't force a connection that isn't there.
Don't succumb to FOMO-fear of missing out. Ask yourself before embarking on a new course, training, etc. "Is this just in case, or just in time?"  If it's just in case, I would recommend saving it for another time.
Quit the comparison game. It's not fair to yourself and others to compare two different timelines and experiences in two different journeys.
Links from this session:
Join my private Facebook Group, The DancePreneuring Collective
Session 125 on Overcoming Overwhelm
Image: Photo by Josefa nDiaz on Unsplash
Would you review The DancePreneuring Studio?
I would be extremely appreciative if you would subscribe and leave your feedback on Apple Podcasts or Stitcher Radio. It really helps if you do it through the native Apple Podcast App on your smart device. Thanks so much!