#159: 5 Things to Help You Navigate The Seasons of Your Life [Podcast]
Podcast: Play in new window | Download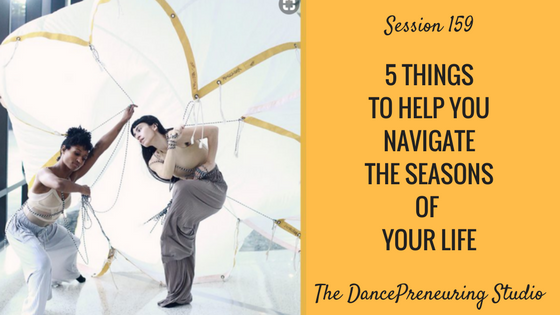 The global impact of the seasons in Once In A Whale, presented by Heidi Duckler Dance Theatre, inspired thought on navigating the seasons of your life. These 5 things will help you regardless of the season that you are currently experiencing.
Session Summary:
Step to Success: A step to your success is anything that moves your life and your business forward.  Whether it's an app, a book or an idea, you can apply something today that can help you succeed.  Today's step to success is the benefits of journaling. I implement a hybrid based on recommendations from Tim Ferriss and The 5 Minute Journal.
Dancer's Dialect: The Dancer's Dialect is the dancer's language.  I share dance terminology and concepts across different genres so you can see the correlations in your life and in your business.  Today's concept is based on doing the splits three ways and the correlation of doing the middle splits, as it relates to communication coming in the middle, and being mutually beneficial for all parties involved.
Freestyle Flow: Oh what memories scents can bring! My good friend Nick Goblirsch and I have a conversation on my affinity for scratch and sniff stickers and scented pens. LOL : )
Feature Presentation: I enjoyed Once in A Whale by Heidi Ducker Dance Theatre not only for the external beauty of the choreography, but for what it stirred within me. I know that the following 5 things can help you navigate the seasons of your life:

1. Be aware of the season you're in and understand that it doesn't have to be the same season as someone else

2. Identify What is supporting you and what is hindering you and do your best to adjust. Clear blockages to make room for what helps you.

3. Put things in your calendar. For me, if it's not in my calendar or my to do list, the likelihood for completion is slim.

4. Incorporate some type of movement. Your body was made to move. Something is better than nothing.

5. Look for the good in the season, rather than what you don't like. There are certain seasons that have been really depressing for me. But I've learned to be grateful for the good.
Links from this session:
Join me on Facebook Live on Monday
Join my private Facebook Group, The DancePreneuring Collective
The Dependent Independent Podcast
Would you review The DancePreneuring Studio?
I would be extremely appreciative if you would subscribe and leave your feedback on Apple Podcasts or Stitcher Radio. It really helps if you do it through the native Apple Podcast App on your smart device. Thanks so much!