#164: 5 Reasons Why Your Story Matters [Podcast]
Podcast: Play in new window | Download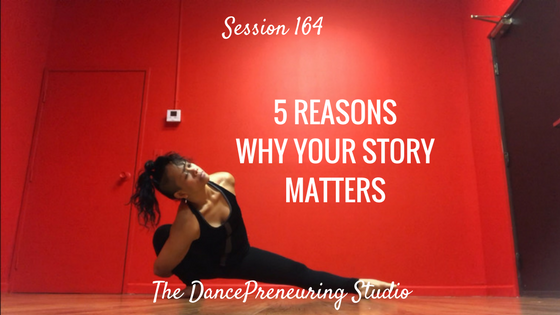 A few days in jury duty and fresh off my dance performance with The Long Beach Community Theater, I share 5 reasons why your story matters in the latest session.
1. You wouldn't be on this earth if your story didn't matter. You are not an accident.  Even if your parents had not planned on having you, or you were adopted, etc. your life is not without purpose even if you haven't figured it out yet, and even if you never figure it out.
2. Your story matters because it gives you the choice to discern what is fact and what is truth. There is a difference.
3. Your story matters because you don't know who you are going to encourage.
4. Your story matters because it teaches you to acknowledge the parts that haven't been so great because it is your story, but you have the opportunity to not let that define you or your future. Embrace the lessons, but celebrate where your strengths have brought you.
5. Your story matters because it gives you the opportunity to be empathetic and be compassionate with others with similar stories, because you know what it feels like.
Links from this session:
Join me on Facebook Live on Monday
Join my private Facebook Group, The DancePreneuring Collective
Would you review The DancePreneuring Studio?
I would be extremely appreciative if you would subscribe and leave your feedback on Apple Podcasts or Stitcher Radio. It really helps if you do it through the native Apple Podcast App on your smart device. Thanks so much!