#165: 7 Reasons to Watch Cobra Kai [Podcast]
Podcast: Play in new window | Download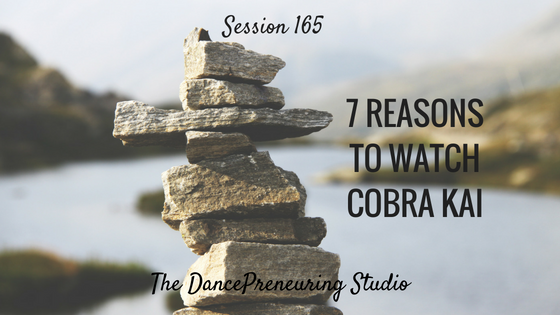 Being a fan of The Karate Kid movies, I immediately noticed the billboards in Los Angeles for the series Cobra Kai. I wasn't planning on watching all of the episodes but I am glad I did as I share 7 reasons why you should watch Cobra Kai.
Session Summary:
Step to Success: A step to your success is anything that moves your life and your business forward.  Whether it's an app, a book or an idea, you can apply something today that can help you succeed.  Today's step to success is underpromising and overdelivering with your products and services.
Dancer's Dialect: The Dancer's Dialect is the dancer's language.  I share dance terminology and concepts across different genres so you can see the correlations in your life and in your business.  Today's word is proprioception. Check out this article on how it applies to dance.
Freestyle Flow: May Day in Hawaii brings back memories of homecoming, cheerleading, and more.
Feature Presentation: There are 7 reasons you should watch the YouTube Red Series, Cobra Kai, and here they are:
1. It is a reminder to be aware that there are bullies and mean people that we have to deal with in this world.
2. It shows that you need to pay attention and probe when you are feeling antsy inside about something.
3. It shows that your beginnings don't always determine your future.
4. It demonstrates the importance of mentorship and testimonials.
5. It shows that you can choose to move beyond past mistakes.
6. It is a great reminder that music is motivation. I loved how they used Head Games by Foreigner and Don't Hold Back by Boston in the episodes. I have my own Mindset Playlist for pre-performance.
7. It probes you to ask if your content in your business is drawing people in. This series has drawn people in. that the second season is already being planned.
Links from this session:
Join me on Facebook Live on Monday
Join my private Facebook Group, The DancePreneuring Collective
Would you review The DancePreneuring Studio?
I would be extremely appreciative if you would subscribe and leave your feedback on Apple Podcasts or Stitcher Radio. It really helps if you do it through the native Apple Podcast App on your smart device. Thanks so much!