#166: Movement, Minecraft and Modeling [Podcast]
Podcast: Play in new window | Download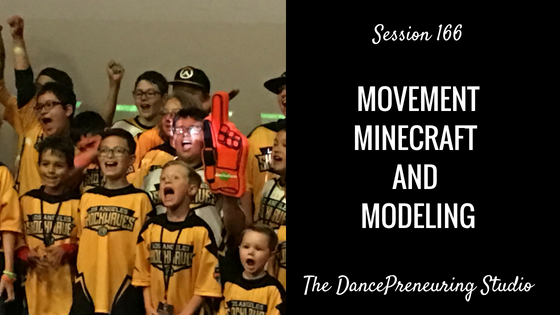 Observe and you can always find something to learn. That's how I feel about movement, Minecraft and modeling relating with each other. I share some insights from these recent experiences in this session of The DancePreneuring Studio.
These are my thoughts:
Determine what needs your individual effort, or you need to approach something differently for the betterment of a group as a whole.
Determine whether you need to work on your weakness or strength. I think it's a case by case scenario.
Check your attitude towards commitment.
Break out of your normal movement patterns to gain different perspectives.
Be willing to get uncomfortable.
Remember that your passions and dreams are important.
Stillness doesn't mean stalling.  Stillness can inspire more creativity if you make space for it.
Links from this session:
Join me on Facebook Live on Monday
Join my private Facebook Group, The DancePreneuring Collective
Would you review The DancePreneuring Studio?
I would be extremely appreciative if you would subscribe and leave your feedback on Apple Podcasts or Stitcher Radio. It really helps if you do it through the native Apple Podcast App on your smart device. Thanks so much!