#167: 5 Things to Remember on Memorial Day and Everyday [Podcast]
Podcast: Play in new window | Download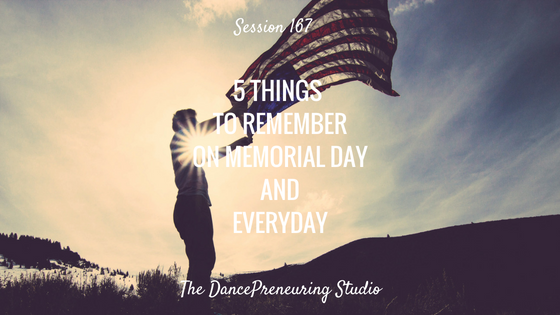 Memorial Day is a meaningful holiday and has given me the following 5 things to share that you can remember on this day and everyday:
You can choose to remember the good and get lessons from not so good memories.
Even if you feel alone, you are not alone. Someone else can empathize with what you are going through.
Honor those who have gone before you.
Evaluate the direction you are going. Don't judge. Reflect and adjust.
Moments don't always mean movement or motion. Relish stillness and allow yourself the time and space to process.
Links from this session:
Join me on Facebook Live on Monday
Join my private Facebook Group, The DancePreneuring Collective
Would you review The DancePreneuring Studio?
I would be extremely appreciative if you would subscribe and leave your feedback on Apple Podcasts or Stitcher Radio. It really helps if you do it through the native Apple Podcast App on your smart device. Thanks so much!