#168: 3 Questions That Help You Become Better [Podcast]
Podcast: Play in new window | Download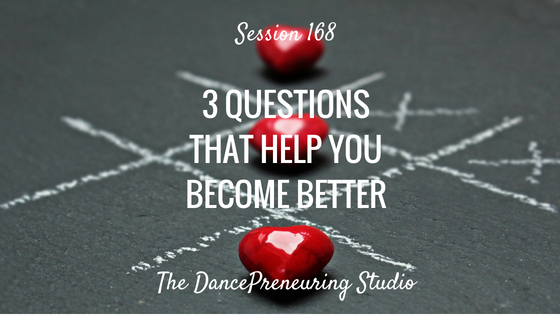 We all want answers but are we asking ourselves the right questions? Whether you are seeking clarity in dance, life or business, these three questions that I recommend you consider.   They will guide you to answers and help you become better.
Session Summary:
Freestyle Flow: Etiquette in dance classes can make or break a satisfying experience.
Feature Presentation: If you take the time to ask yourself the following questions, they will help you find the answers that you're seeking whether it's in dance, life or business:

1. Do you believe in who you are and what you're doing or are you comparing yourself to others?
2. Are you enduring or embracing your experiences? Going through the motions as opposed to allowing yourself to experience all emotions involved in creating can make a huge difference.
3. Are you connected or attached? Connection has to do with the moment. Attachment can lead to disappointment because it's conditional.
Links from this session:
Join me on Facebook Live on Monday
Join my private Facebook Group, The DancePreneuring Collective
Would you review The DancePreneuring Studio?
I would be extremely appreciative if you would subscribe and leave your feedback on Apple Podcasts or Stitcher Radio. It really helps if you do it through the native Apple Podcast App on your smart device. Thanks so mu