#170: How to Get The Most from Podcasts [Podcast]
Podcast: Play in new window | Download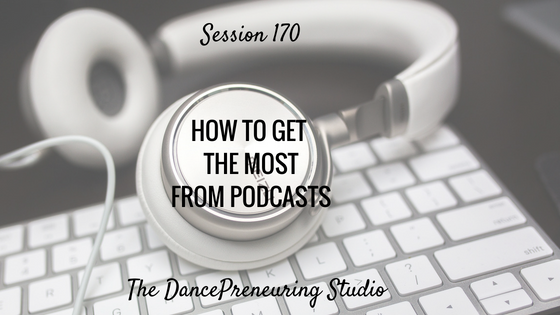 I love that there is a variety of ways to consume information. With podcasts, you think it's audio only, however, you can learn beyond using your ears to other senses as well.
Here are 5 ways that you can get more from podcasts:
1. Subscribe to the shows you don't want to miss.  Also unsubscribe from shows you no longer listen to.
2. Listen to an episode more than once.
3. Check out the show notes if they're available.  There might be resources and transcripts available.
4. Rate the show on Apple Podcasts. Send feedback via email or social media.
5. Pick one tip and implement as quickly as possible.  This might or might not apply to an entertainment podcast. Perhaps there is a story or an experience that triggers you to pursue something new or exciting.
Would you review The DancePreneuring Studio?
I would be extremely appreciative if you would subscribe and leave your feedback on Apple Podcasts or Stitcher Radio. It really helps if you do it through the native Apple Podcast App on your smart device. Thanks so much!