#171: Why You Need to Be the Author of Your Life Story [Podcast]
Podcast: Play in new window | Download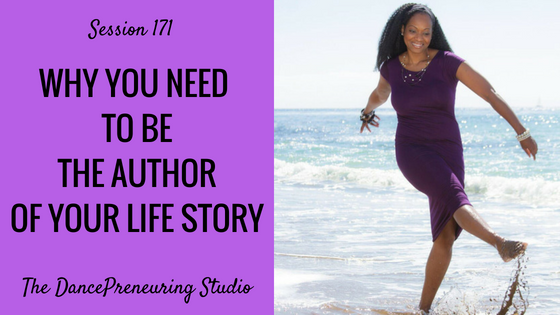 You never know how strong you are until being strong is your only choice. – Bob Marley –
The above quote reminded me of dancer and author Renee Harris, who has overcome intense obstacles in dance, life and business. She is back with her new Brave and Fearless Workshop Series as we catch up on all the cool things that have happened since Session #010, my first interview with her.
I highly recommend that you do the following powerful exercise that Renee had her participants do at her recent workshop.
Pick a younger age.
Write a letter to yourself to your younger self as you are now, of all the things that you have accomplished.
Links from this session:
Join me on Facebook Live on Monday
Join my private Facebook Group, The DancePreneuring Collective
Joey Cooper, co-creator of Brave and Fearless Workshop Series Interview 
Elm Pizarro, Creator of Boogiezone Inc. Interview
Would you review The DancePreneuring Studio?
I would be extremely appreciative if you would subscribe and leave your feedback on Apple Podcasts or Stitcher Radio. It really helps if you do it through the native Apple Podcast App on your smart device. Thanks so much!