#173: 7 Advantages of Having The Odds Stacked Against You [Podcast]
Podcast: Play in new window | Download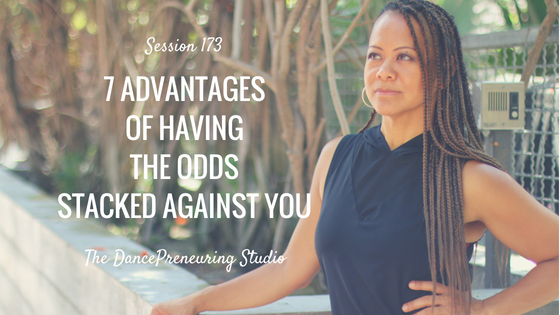 Odds stacked against you? Doesn't matter. What matters is your mindset.  In this latest session of The DancePreneuring Studio, I share 7 advantages of having the odds stacked against you. You'll be encouraged by these. : )
1. There is no way to go but up, if you decide to choose to progress forward. You can quit, but that is not an option for me.
2. People underestimate you and that is a great barometer to see if you are looking for outside validation.
3. You build up internal strength.
4. You are automatically seeking what will give you the edge.
5. You get particular about your association. What kind of habits do you want to adopt from the people that you are around?
6. Your compassion compass gets stronger (like #3) as you identify and relate with those that also have odds stacked against them.
7. When you overcome, you encourage and inspire others that they can do the same. 🙂