#082: In Memory of A Master [Podcast]

Image from Edge Performing Arts Center
Enthusiasm is one of the most powerful engines of success. When you do a thing, do it with all your might. Put your whole soul into it. Stamp it with your own personality. Be active, be energetic and faithful, and you will accomplish your object. Nothing great was ever achieved without enthusiasm."
— Ralph Waldo Emerson,
American Philosopher
The dance world lost Doug Caldwell, a vibrant and passionate master teacher, this week. In this session of The DancePreneuring Studio, I talk briefly about a dream fulfilled, the gift of taking Doug's classes.
Session Summary
Step to Success: A step to your success is anything that moves your buy cipro online life and your business forward.  Whether it's an app, a book or an idea, you can apply something today that will help you succeed. This week's step is the simplicity of ordering a domain through Hover.com
Dancer's Dialect: The dancer's dialect is the dancer's language.  I share dance terminology and concepts across different genres to illustrate correlations between your life and your business. This week's word is jazz walk, and the different types of jazz walks. Check out this video:
Freestyle Flow: A lot of times, the answers you are looking for are within yourself.
Feature Presentation: I talk briefly about my experience in taking dance classes from Doug Caldwell, who I've admired for a long time, but never got a chance to take his classes when I was out of the dance world.  Passion, enthusiasm and intensity were hallmark of his teaching. I am shocked and saddened by his passing and he will be incredibly missed.  Here is a photo from Facebook in one of the classes I was in with this cute dog : )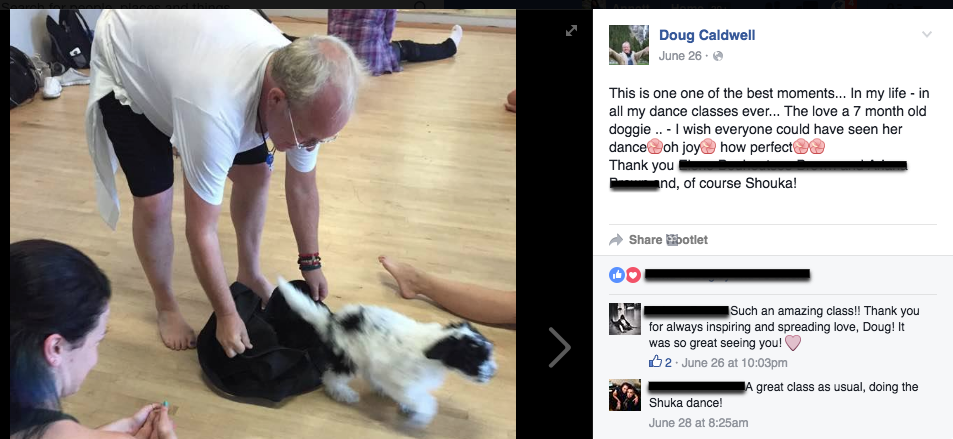 Links from this Session:
Would you review The DancePreneuring Studio?
I would be extremely appreciative if you would subscribe and leave your feedback on iTunes or Stitcher Radio. It really helps if you do it through the native Apple Podcast App on your smart device. Thanks so much!