#175: 7 Warning Signs That You're In The Wrong Business [Podcast]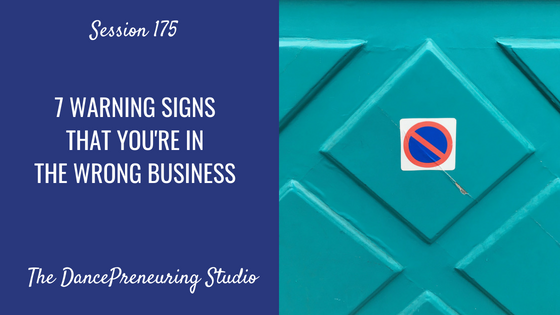 Pay attention to warning signs. More importantly, pay attention to your intuition. This session on 7 warning signs that you're in the wrong business was difficult to record because I still wanted to keep it as positive as possible.
Session Summary:
Step to Success: A step to your success is anything that moves your life and your business forward. Whether it's an app, a book or an idea, you can apply something today that can help you succeed. Today's step to success is using whatever you need to stay hydrated. I love my Takeya Water Bottle.
Dancer's Dialect: The Dancer's Dialect is the dancer's language. I share dance terminology and concepts across different genres so you can see the correlations in your life and in your business. Today's concept is based on my recent experience at a backhanding workshop at my yoga studio.
Freestyle Flow: I love me some chocolate and sunflower butter. Yum : )
Feature Presentation:
7 Warning Signs That You're In The Wrong Business
1. Your treatment is conditional.
2. They promote their definition of success over your definition of success.
3. They ridicule other businesses and people, whether publicly or privately.
4. You are not passionate about the product or service.
5. They teach based on theory and speculation.
6. They instill fear and guilt in you if you decide to pursue other projects.
7. They pressure you to spend money that you don't have.
Links from this session:
Join my private Facebook Group, The DancePreneuring Collective
So Delicious Dairy Free Ice Cream
Coconut Bliss Dairy Free Ice Cream
Would you review The DancePreneuring Studio?
I would be extremely appreciative if you would subscribe and leave your feedback on Apple Podcasts or Stitcher Radio. It really helps if you do it through the native Apple Podcast App on your smart device. Thanks so much!