#185: Gene Kelly, The Legacy [Podcast]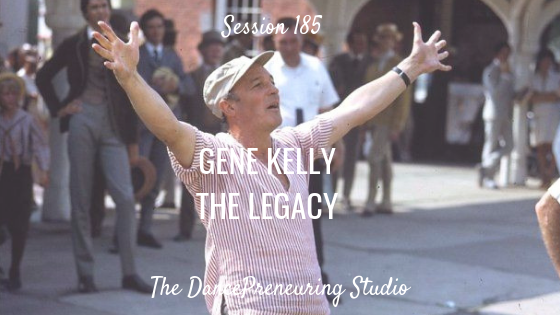 You dance love, and you dance joy, and you dance dreams. And I know if I can make you smile by jumping over a couple of couches, or running through a rainstorm, then I'll be very glad, to be a song and dance man. -Gene Kelly-
Photo Courtesy of Patricia Ward Kelly
I am beyond excited to share this conversation I had with the lovely Patricia Ward Kelly, wife of dance icon Gene Kelly, as we approach her upcoming one woman show "Gene Kelly: The Legacy, An Evening with Patricia Ward Kelly" at The Torrance Cultural Arts Center this Saturday, October 6th 2018 at 2pm and 8pm. We talk about her humble beginnings, her impression of meeting Gene Kelly oblivious of his extensive career at the time, misconceptions about his work processes, and much more.
Links from this session:
Get tickets to Gene Kelly: The Legacy
Gene Kelly The Legacy Facebook Page
Would you review The DancePreneuring Studio?
I would be extremely appreciative if you would subscribe and leave your feedback on Apple Podcasts or Stitcher Radio. It really helps if you do it through the native Apple Podcast App on your smart device. Thanks so much!