#191: The Body-Where Technology and Humanity Meet [Podcast]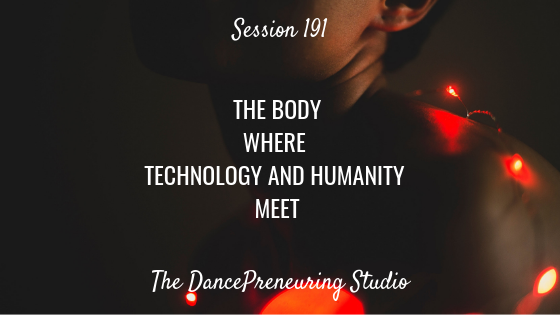 Autobiography melds the worlds of science and art by incorporating something as universal as our own DNA into the foundation of the piece to engage audiences in new and different ways.
-Michael Solomon, Vice-President of Presentations and Education at The Music Center
Session Summary:
Freestyle Flow: My magical morning elixir consists of movement, coffee and cold pressed juice. : ) Also, during one of my morning workouts at the hybrid gym that I go to now, I was reminded that you never know what a person is made of internally, merely by appearance. I was in a conversation with a friend about a race where a co-worker, who had never done a race or worked out, and didn't appear to be healthy, was the one that stayed accountable and proved to himself that he could do even more.
Feature Presentation: Here are 5 tips for dance, life and business from my wonderful experience watching Autobiography by Company Wayne McGregor:
Add to your arsenal. What tools or help do you need to experiment with different approaches? He used a computer algorithm to determine the selection of the 23 sequences so that each performance had variety and was never the same. How cool is that?
Structure is not stifling. Creativity within structure can flourish with a beginning point, a middle section and an end. Having this 23 sequence structure and specific themes gave structure which I'll talk about in the 5th tip.
Expand your horizons. I am quite impressed with his academic background and studies, as he is a professor and has an Honorary Doctor of Science degree from Plymouth University, as well as having numerous awards. For you, it could be going to college, or taking other specialized courses. It could be an intensive in a subject that will further your knowledge base or give you a different experience.
Dig deeper in one area. This piece was about taking something universal, our own DNA, and having dance and movement remind us of some of the random and unplanned events in all our lives. It was engaging and comforting at the same time, to acknowledge this aspect.
Take care of aspects of your precious tool, your body, in terms of your memory, aging and sleep. These themes were conceptualized in this production by his incredible dancers. Not only the athleticism but the engaging musicality.
It's easy to take for granted that there is inspiration all around, and things such as science, technology and dance can intersect.
Links from this session:
Would you review The DancePreneuring Studio?
I would be extremely appreciative if you would subscribe and leave your feedback on Apple Podcasts or Stitcher Radio. It really helps if you do it through the native Apple Podcast App on your smart device. Thanks so much!