#196: How to Be Memorable and Stand Out [Podcast]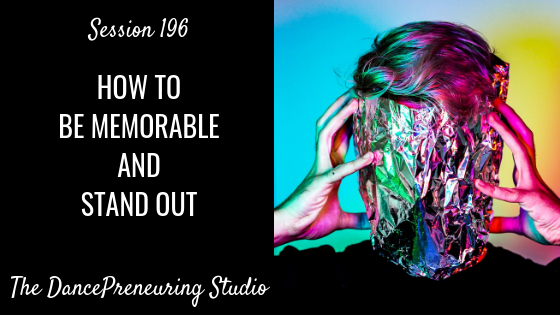 I've learned that people will forget what you said, people will forget what you did, but people will never forget how you made them feel.
-Maya Angelou-
Session Summary:
Stimulating, Fascinating, Pure Innovation. These are a few words that I would use to describe the incredible dance performance company that is Pilobolus. Their recent production called Come To Your Senses provoked thought on how to stand out in dance, life and business.
The following are 5 things to consider to stand out in any area of your life:
Give yourself space mentally, physically, with time to ponder on what is your magic sauce. What is your wow factor? What makes you unique? With Pilobolus they incorporate forms of puppetry, gymnastics, theatrics to name a few.
Don't overthink, get anxious and hung up on making an impression, if it's not in line with your end result. If something is not making sense, don't pursue it. I will also say that sometimes things don't make sense, but your gut tells you to proceed. So, it's a matter of you making the best choice at that moment in time.
Innovation can come from common things. Pilobolus used digital means as well as common things like fabric. I also appreciated the simplicity of their attire. I liked the balance of innovation and simplicity.
Relish in live experiences. Go to as many different types of events that you can.
It's not always the details but the lasting impression. I don't remember a lot of the details of this show. But I do remember how it made me feel. It made me feel alive, appreciative of dance and art, and grateful to see creativity unfold before my eyes.
Links/Info from this session:
Would you review The DancePreneuring Studio?
I would be extremely appreciative if you would subscribe and leave your feedback on Apple Podcasts or Stitcher Radio. It really helps if you do it through the native Apple Podcast App on your smart device. Thanks so much!