#099: 7 Business Lessons from a Hip Hop Dance Competition [Podcast]
Podcast: Play in new window | Download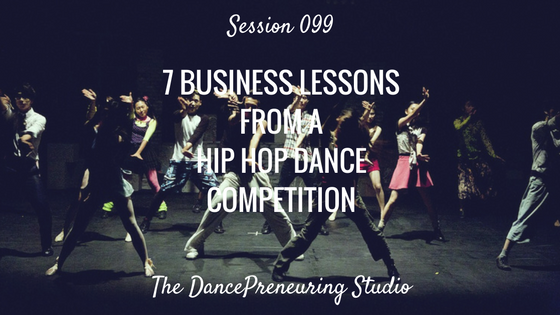 Session Summary:
Step to Success: A step to your success is anything that moves your life and your business forward.  Whether it's an app, a book or an idea, you can apply something today that will help you succeed.  Today's step is taking advantage of on boarding experiences offered by companies that you use. I recently had a great experience with Convertkit.
Dancer's Dialect: The Dancer's Dialect is the dancer's language. I share dance concepts and terminology across different genres so you can see the correlations in your life and in your business.  Today's word is a step called jitting, something I came across looking for info on House dance, based on an awesome class I took from the super Jackie Lopez at Evolution Dance Studios in North Hollywood.  Check out this video:
Freestyle Flow: Tests are not the final authority on your intelligence but they are helpful in assessing how you would best handle situations and amplifying your skill set.
Feature Presentation: Competition can be the catalyst for creativity, community and camaraderie. A recent hip hop dance competition had these elements and reminded me of the following important business and life lessons:

Have a mission statement.  If you're choreographing, what is the message of your cipro drug online piece? One of my favorite dance teams in the competition, Blank Canvas, has a mission statement as follows: "Our bodies are the brushes, the music is our paint, the dance floor is our canvas, and the light is our faith."
Be purposeful with your content.
You're only as strong as your weakest link. Do what is necessary to make sure that all your team members embody outstanding work ethics and attitudes.
Find out what your audience wants and deliver it to them. What does your business audience want? Find out and create it for them whether it's a course, audio, workshop, etc.
Find the areas where you can simplify and clean up.
Watch your words. Communication is everything.
Create and cultivate camaraderie.
Bonus business lesson: Pay attention to how you start and how you end.
Question: What life or business event have you learned the most from?
Links from this session:
Jackie Lopez' House Class at Evolution Dance Studios
Would you review The DancePreneuring Studio?
I would be extremely appreciative if you would subscribe and leave your feedback on iTunes or Stitcher Radio. It really helps if you do it through the native Apple Podcast App on your smart device. Thanks so much!