The Beautiful Blend of Indian Dance and More Through Blue13 Dance Company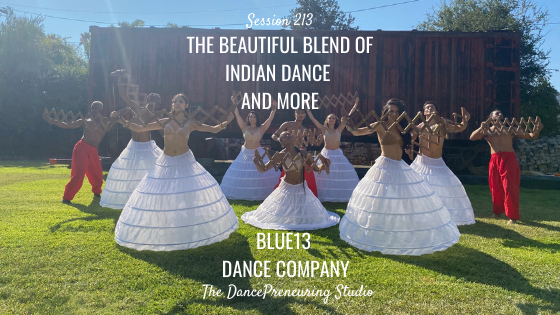 Our work has always been rooted in unveiling inequity and celebrating with radical joy in the face of adversity. We are not any one thing to serve to satisfy white centered ideology. We are not inferior in our Bollywood, in our abstract work, on stage, or in a cypher. We are a brown and black global majority dance company, and our blood is blue. -Achinta S. McDaniel, Blue13 Dance Company-
Indian dance is not one thing, and Blue13 Dance Company based out of Los Angeles is an exemplary example of this through their beautiful blend of art, dance, movement and more. I had a wonderful conversation with critically acclaimed artist Achinta S. McDaniel, founder and artistic director of Blue13 Dance Company as she and her artists are in preparation for two events you don't want to miss if you are in the Greater Los Angeles area. One is a fun Bollywood experience in Downtown Los Angeles at The Music Center on Friday, September 10th from 7pm-11pm, and the second one is an audience immersive, site specific, outdoor Contemporary and Bollywood Dance spectacular called Shaadi (Hindi for wedding) that is sure to be one of the most memorable events that you can attend. Shaadi is happening on Friday, September 17th and Saturday, September 18th at the Heritage Square  Museum.
More about Achinta S. McDaniel:
New Girl, Speechless with Minnie Driver, DJ Snake, The Amazing Race. Walt Disney World, Heineken, and Snapple to name a few. Household names and they all have something in common. The creative work of my guest today, Achinta S. McDaniel. In addition, the following words further describe this acclaimed artist: Prolific. Powerful. A pioneer. Achinta S. McDaniel, choreographer, performer, educator and artistic director of Blue13 Dance Company based out of Los Angeles draws from techniques including Bhangra, Kathak, and Bollywood, Hip Hop, ballet, jazz, tap, and modern dance, to create spectacular and theatrical dance. She is known for her experimentation with international styles and for inventive staging of her signature contemporary Indian forms. Her choreography is highly dramatic and a real reflection of her upbringing: Eastern and Western, exotic, mysterious, wild, rebellious and unconventional. McDaniel's work is fearless and inventive, ever-exploring the boundaries of contemporary dance as a first-generation Indian woman.
A few takeaways from our conversation:
Defining that dance, movement and certain forms don't have to fit into the stereotypical European standards that have been heavily emphasized
Not only honoring process in our creative works, but the importance of the people involved
Cultivating a brave space for exploration and expression so that it can also be a safe space
Self-evaluation for your mission and asking the difficult questions of how you represent yourself and your artistry
Other episodes of interest:
How An Experiment Became and Experience: The Rise of The Leela Dance Collective
Being Present and Honoring Your Path to Creativity
Links from this session:
Heritage Square Museum Event Details
KUSC Radio Interview with Achinta S. McDaniel
Would you review The DancePreneuring Studio?
I would be extremely appreciative if you would subscribe and leave your feedback on Apple Podcasts or Stitcher Radio. It really helps if you do it through the native Apple Podcast App on your smart device. Thanks so much!