#117: Shut Up and Dance [Podcast]
Podcast: Play in new window | Download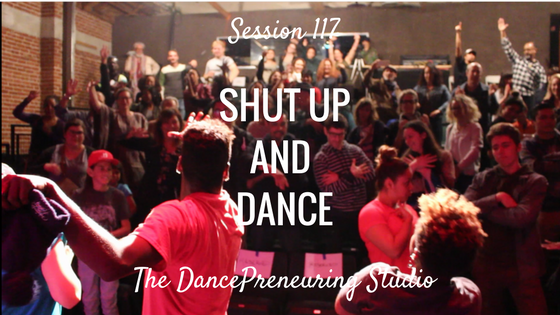 Music is the language of the soul, dance is the language of the body. Body and soul, music and dance conceive an instrument of expression through which the spirit communicates.
-Maestro Hector Zaraspe-
Photo Courtesy of Emeroy Bernardo
Session Summary
Step to Success: A step to your success is anything that moves your order tramadol pharmacy life and your business forward.  Whether it's an app, a book or an idea, you can apply something today that can help you succeed.  Today's step is something that will help you when you need to make important decisions, and that is the word HALT. It is best to not make major decisions when you are Hungry, Angry, Lonely (Emotional) or Tired. So HALT from making a decision if you are feeling any of these.
Dancer's Dialect: The Dancer's Dialect is the dancer's language.  I share dance terminology and concepts across different genres so you can see the correlations in your life and in your business. Today's word is gliding. Check out this video on how to glide
Freestyle Flow: I talk about why I've held onto towels I purchased several decades ago.
Feature Presentation: 10 pieces. 10 points of view. I love the diversity in dance and Hip Hop. In this session, I review the Shut Up and Dance, Hip Hop Dance Festival at The Bootleg Theatre on March 31st, 2017.
Links from this session:
Join my private Facebook Group, The DancePreneuring Collective
Session #008 with Actor/Dancer/Choreographer Chris Jones
Session #076 with Amy Campion, Artistic Director of Antics
Session #012 with Emeroy Bernardo
Session #035 with Emeroy Bernardo
Would you review The DancePreneuring Studio?
I would be extremely appreciative if you would subscribe and leave your feedback on iTunes or Stitcher Radio. It really helps if you do it through the native Apple Podcast App on your smart device. Thanks so much!