How to Cultivate the Effective Habits of a Champion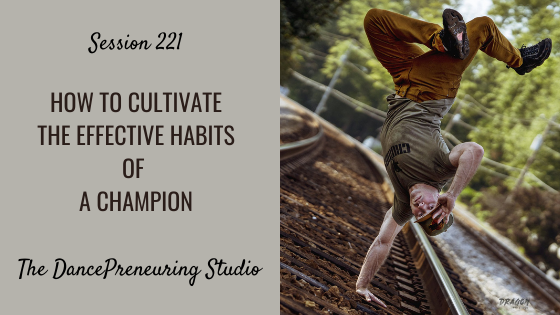 Champions do not become champions when they win the event, but in the hours, weeks, months and years they spend preparing for it. The victorious performance itself is merely the demonstration of their championship character. –T. Alan Armstrong-
My accomplished guest today is no stranger to winning events. At the time of this recording, his most recent win is his 6th World Title from Freestyle Session. He holds the most titles in the history of this event, that happens worldwide featuring some of the best dancers in hip hop.
His remarkable winning streak started early on, accumulating over 100 first place titles before the age of 25. He continued onto working with some of the biggest names in the entertainment industry such as Justin Timberlake, Missy Elliott, Christina Aguilera and The Black Eyed Peas to name a few, as well as being featured in movies, commercials and fulfilling a bucket list dream of being a main character on the Sony PlayStation Game Bboy.
He is also the CEO and Founder of the Dance/Athletic/Lifestyle Brand called Sickstep Inc. and although based currently out of Atlanta, Georgia, he continues to be sought out from all over the world as a dancer, choreographer, educator and judge.
If you're in the Atlanta, Georgia area, go check out his breaking classes at Crumbs Dance Academy and if you're not, I still recommend you check out more about him. 🙂
A few takeaways from this session:
Focus on the basics and foundation to build your craft
Preparation and consistency in your habits
Learning to work as a team while utilizing your individual skillsets
Work ethic is critical
Other episodes of interest:
#218 How To Effectively Lead Yourself and Others to More Success
#217 Leadership Lessons from Freestyle Session
#076 The Beautiful Struggle of Running a Dance Company
#008 How Inspiration Leads to Opportunity
Links from this session:
Would you review The DancePreneuring Studio?
I would be extremely appreciative if you would subscribe and leave your feedback on Apple Podcasts or Spotify. It really helps if you do it through the native Apple Podcast App on your smart device. Thanks so much!